Below is a list of talks and workshops I've given, along with links to videos and slides where available.
If you'd like me to speak at your event, get in touch for details.
In general, I'm happy to speak at community organised, non-profit conferences that have a Code of Conduct, a diverse lineup of speakers, and cover my costs (travel, conference tickets and accommodation). I'll also speak at a for-profit event if we can agree a reasonable fee. The more your event is doing to be inclusive and accessible, the more likely I am to say yes.
I enjoy talking about the social implications of technology, and the intersections with ethics, accessibility, diversity and inclusion. These talks are particular favourites, and I'd love an opportunity to present them to a new audience:
The Curb Cut Effect. If we design with accessibility and inclusion in mind from the start, we end up with a better design for everyone.

Assume Worst Intent. Safety can't be an afterthought – we need to anticipate somebody using our tools for harassment or bullying, and design with that in mind.

A Robot Stole My Job. A fun story about the value (and perils!) of build automation.
I can also write new talks, and I have a couple of ideas I have yet to present anywhere. Think your event would be a good fit? Let's chat.
If you enjoyed one of my talks, found it useful, or shared it with somebody else, please let me know – I love to know I've been helpful.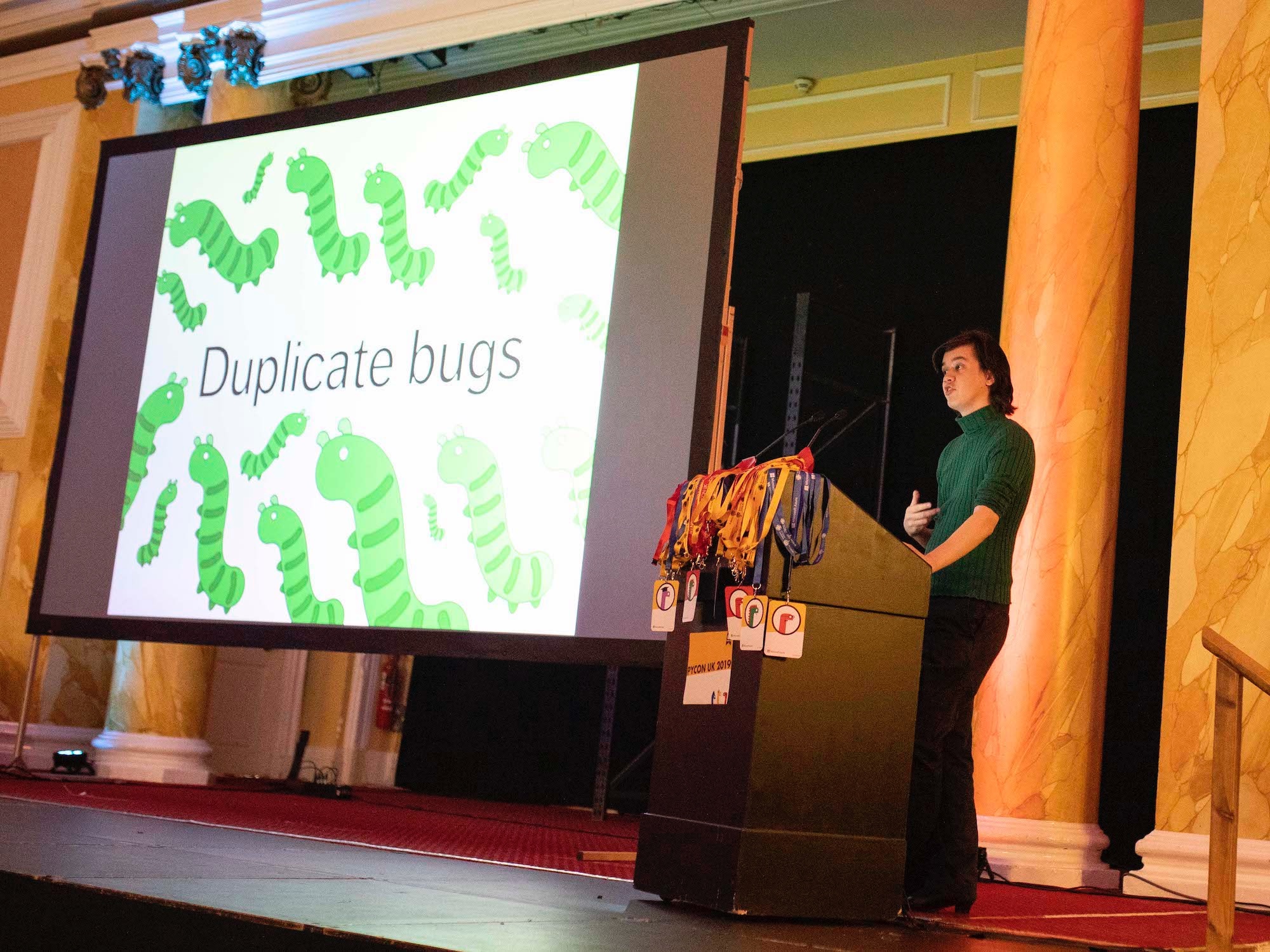 2019
18 Oct

20 Sept

14 Sept

13 Sept

Sans I/O programming patterns: what, why, and how, PyCon UK

Programmers have access to plenty of powerful, flexible libraries – and yet we often end up reinventing the wheel. Why? Because our libraries aren't reusable – code gets trapped by its I/O model. If we program in a "sans I/O" pattern, we get code that's simpler, more flexible, and easier to test and reuse.

13 Sept

A robot stole my job!, PyCon UK (lightning talk)

10 Apr

A robot stole my job prospects, ACCU (lightning talk)

Build automation is great, right? We can save time, automate releases, script tedious tasks… but what happens when these build robots turn against us?

31 Jan

The Curb Cut Effect, Monki Gras

When we imagine inclusive design, we think about helping people from minoritised or excluded groups. People who are disabled, or BAME, or LGBTQ+. We should consider them in our designs – but if we design for them, are they the only ones who benefit? The Curb Cut Effect suggests otherwise: designing for people who are excluded or marginalised can often result in a better design for everyone.
2018
17 Sept

A Plumber's Guide to Git, PyCon UK (workshop)

16 Sept

Assume Worst Intent (designing against the abusive ex), PyCon UK

We build services with good intent, trying to improve interactivity and connections between our users. But what if one of our users has a stalker, a harasser, or an abusive ex? How do we design services and platforms to reduce the risk of harassment and abuse from other users?

15 Sept

18 May

A Plumber's Guide to Git, Oxford Python (workshop)

18 April

(Anti-)Social Media, Bournemouth University

A lecture for students on the Cyber Security Management course about online harassment – identifying some of the ways services are often used for harassment, thinking about common threat models, and some good practices for building safer services.

6 Mar

A Plumber's Guide to Git, Cambridge Python User Group (workshop)
2017
5 Dec

27 Oct

27 Oct

A Plumber's Guide to Git, PyCon UK (workshop)

How does Git work under the hood? A workshop that uses low-level Git "plumbing" commands to reconstruct a Git workflow from scratch, and see how Git stores data internally.

26 Oct

Let's talk about (a)sex(uals), PyCon UK (lightning talk)

8 Mar
2016
18 Sept

An introduction to property-based testing and Hypothesis, PyCon UK

7 June

Introduction to property-based testing, Cambridge Python User Group

17 Feb

Colossus, Queens' College Maths Society
---