@alexwlchan I'm also stripping common prefixes from episode titles within a feed, so:

Episode 1: A
Episode 2: B
->
1: A
2: B
At the beginning of the latest episode of ATP, Marco talked a little more about the server-side parsing, the motivation behind using a server rather than processing RSS feeds client side, and dealing with malformed or incorrect XML.
Granular skip buttons in Control Centre
In the Settings screen, you can set choose how many seconds you want to skip back or forward when listening to a podcast.
What's particularly nice is when you change this from the default, then look carefully at the buttons in Control Centre (or the lock screen controls):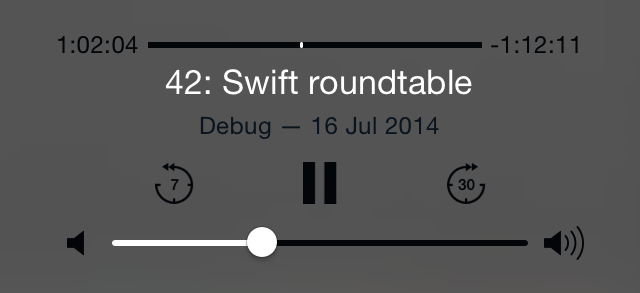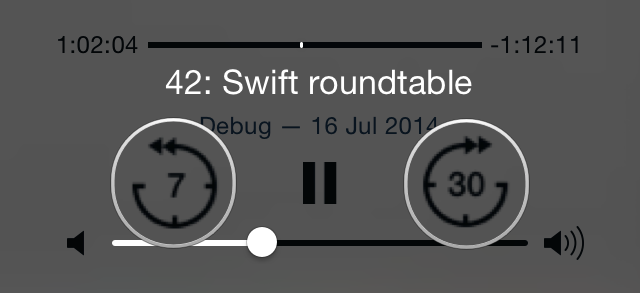 Toggle screenshots
The text is quite small, but you can see that the buttons are labelled with the number of seconds that will be skipped. (Toggle the screenshot to see blown up versions of buttons.) Those labels get updated to reflect your skip settings.
I was a bit confused that the same buttons weren't being used on the Now Playing screen in Overcast itself, but apparently that's coming in a future update.
Sharing links to a specific timestamp
Although this isn't supported in the iOS app yet, the website lets you share a link to a specific point within a podcast. For example, I can link to the point in the latest ATP when they started discussing Overcast, half an hour in.
I'd be surprised if this wasn't in part inspired by Hypercritical and ATP. In the final episode of Hypercritical, John lamented that the amount of followup at the beginning of each episode made it hard to share shows. Telling somebody to skip the followup at the start of the show makes it much more likely that they just won't bother. ATP has the same problem – a glut of followup at the start of each show.
This is an easy way to link to an episode and skip all the followup. I think I'm going to be using this feature a lot.
Conclusion
Overcast definitely has a couple of rough edges, but overall it's a solid 1.0. It's already become my new podcast app of choice.
If you've never listened to a podcast before, then I think it would make a good starting point. If you already have a dozen subscriptions, then you might really appreciate the audio processing features.
It's free to try on the App Store (with a $5 in-app purchase to unlock the full feature set), so I think you should definitely give it a go.