From this week our armed officers will be carrying out more visible and proactive patrols at key sites across the county. This is not as a result of any specific intelligence or threats, but is designed to help keep you as safe as possible. Read more here cambs.police.uk/news-and-appea…
The text of the tweet tries to be reassuring: it's just a precaution, about our safety, not a response to a specific threat. (This doesn't reassure me, but at least they're trying!)
But let's talk about that picture.
The officer is pointing the gun at somebody sitting in a car. It's a very aggressive pose, at odds with the reassuraning tone in the rest of the tweet. You don't point guns as a precautionary measure. You point them carefully, or not at all.
I have a small amount of gun training, because I did some CCF (Combined Cadet Force) when I was in school. And the first lesson was this: never point your gun at something you are not ready to destroy. The default holding position was with the gun facing down, finger away from the trigger. Aiming at static targets down a range was fine, but if I'd pointed it at a person, I'd have been expelled instantly. Unlike in fiction or video games, you don't wave guns around lightly.
So to me, this picture sends a strong message: this officer is armed, and they are ready to kill the person in this car. Either that, or this officer is improperly trained. Given no other context, either scenario is horrifying, and hardly seems like an appropriate image to go with this tweet.
If you wanted a better image of armed police, it's not hard to find one. I found this photo on Paul Townsend's Flickr account, accompanied by an excellent history of armed police in the UK: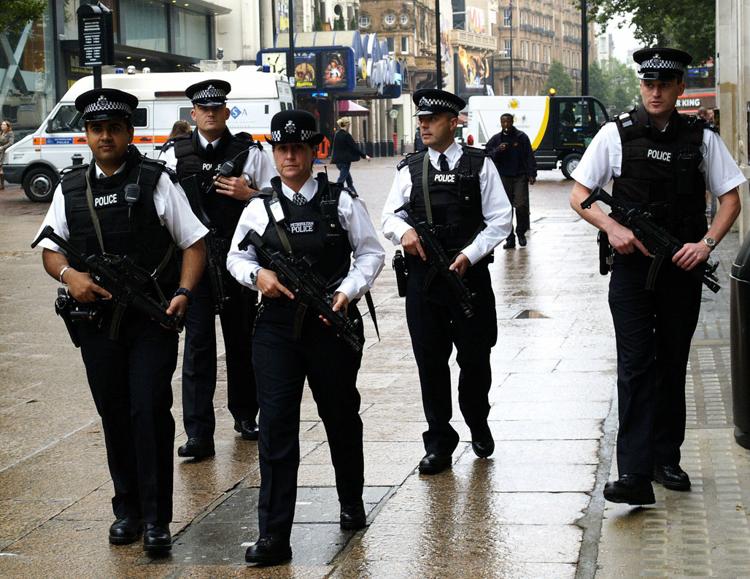 We see good practice all round: guns pointed down, fingers covering but not on the trigger. (And I always feel better when I see they're a little apprehensive with the guns too!)
If the Cambridge Police Service want me to feel reassured, they could start by picking a nicer image. Once they can use Twitter sensibly, then maybe we can talk about using guns as well.