I was recently casting around for another cross-stitch project to do, and while searching Etsy I found a cheetah pattern. Perfect! I got to work, and two months later I have this to show for it: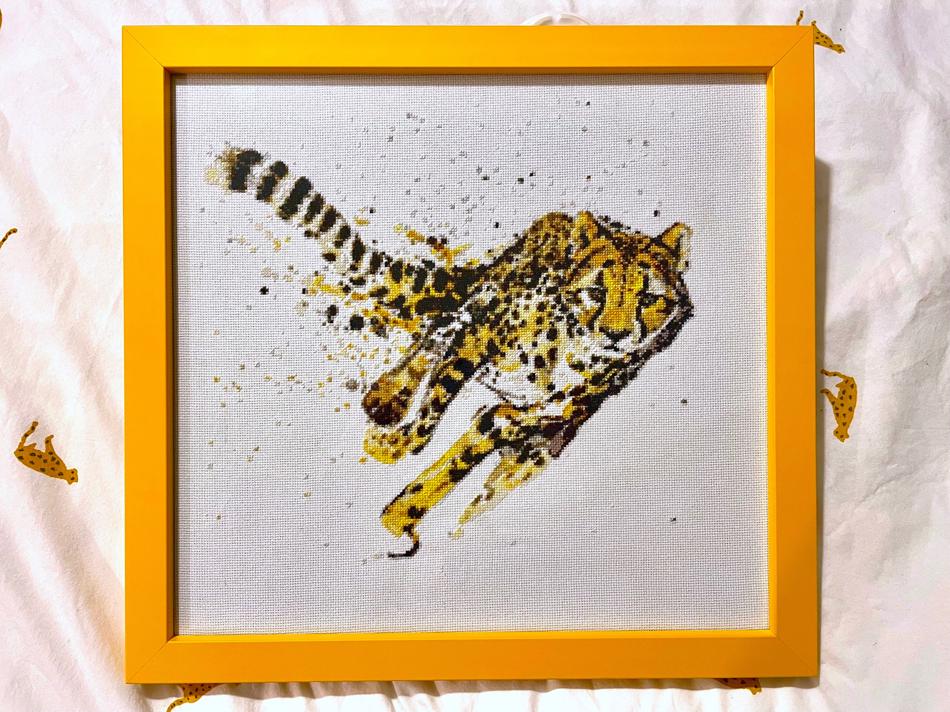 I really like the finished piece – it captures the energy of a running cheetah, the colours are gorgeous, and you can see the distinctive black tear lines. I stitched it on 18 count aida, using a dozen or so shades of thread. The bright yellow frame was made by Landseer Picture Framing, and it's approximately 14″ square. I've hung it next to my bookshelf, and it brightens up the wall nicely.
Normally this is where I'd link to where you can buy the pattern, but on this occasion I won't – because I'm not sure I want to promote the seller.
A couple of weeks ago I showed somebody the work-in-progress, and they said "oh hey, I think I've seen that picture before". My heart sank, because I know what that means.
I used Google Lens to do a reverse image lookup, and I found various low-quality Amazon pages and Etsy products with a similar image – t-shirts, mugs, posters, and more.
The Etsy seller I bought my cross-stitch pattern from has dozens of patterns, with a variety of art styles, and they don't mention any artist names. I think they're probably scraping the images, running them through software to create a cross-stitch pattern (there are plenty of tools for doing this), and selling them for their own profit. The original artist probably doesn't see a penny. I'm no expert, but this feels like blatant copyright infringement.
I did eventually find who I think deserves the artistic credit – Faenkova Elena, an illustrator from Minsk who sells high-quality copies of this image on both Shutterstock and Dreamstime.
I want to support artists, and I want them to be fairly compensated for their work! I feel gross knowing that I've inadvertently helped somebody make an unfair profit off an artist's work, and it's not the first time this has happened. I've bought other Etsy cross-stitch patterns without realising they were based on somebody else's art.
I've bought a standard image licence on Shutterstock, which includes personal, non-commercial use – so I feel less bad about what's hanging on my wall – but I wish I didn't have to play art detective when I'm buying patterns. I wish Etsy and Amazon were better at stopping copyright infringement.
These issues aside, I really am thrilled with this latest piece – it was fun to make and it's a nice splash of colour in my living room.